Do-It-Yourselfers, crafters, and makers will find more than 1,000 video classes taught by design experts and artists. Material lists by brand name are provided, and transcripts and patterns can be downloaded. Public-performance rights are included. Class subjects include:
Art and Design (ceramics, drawing, home décor, lettering, painting),
Sewing (baby, garments, pattern drafting), quilting, paper (cards, collages, decoupage, paper flowers),
Yarn work (knitting and crochet),
Food and home (canning, cake decorating),
Jewelry (beading, leather, metal and wire), and
Holiday themed.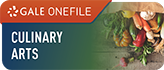 Billed by Gale as a "smorgasbord of information," the Culinary Arts collection of digital resources provides access to academic journals and magazines, as well as reference-book content, on all aspects of cooking and nutrition. The database includes thousands of searchable recipes, restaurant reviews, and industry information.
Available via NOVEL, a project of the NY State Library, federally funded by LSTA grants.